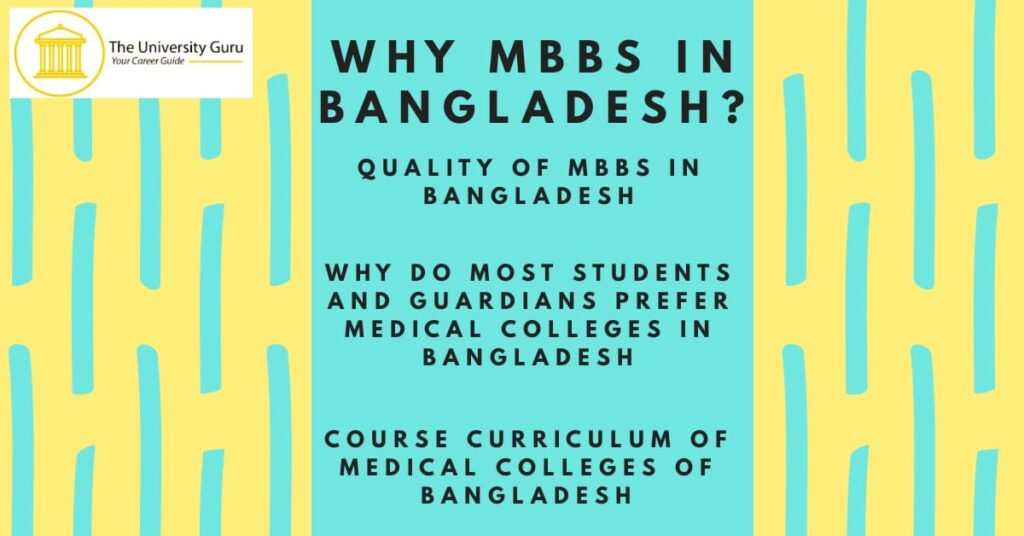 Have you appeared for your NEET exam and planning to take admission for MBBS but confused in MBBS in Bangladesh is the right choice? Let's take a look at the article to give you an insight into the quality of MBBS education in Bangladesh and also why medical colleges in Bangladesh are most sought after.
Firstly let's talk about the quality of MBBS in Bangladesh. The MBBS program in Bangladesh aims at providing students with proper hands on experience and theoretical knowledge from the experts to be able to contribute towards the health car sector. A lot of of factors determine the quality of MBBS in Bangladesh. Let us look at a few points below.
Case based learning
Patient – doctor interaction in clinical rotations
Patient care exposure well in advance even during their curriculam in the end of 3rd year.
Research techniques to be able to gain evidence based medicinal practices
Short tests every week for the students so that they have not remained slack even for a day in their 5 year tenure.
Having said all of this, one should not think that MBBS in Bangladesh is and has no extra-curricular activities for the students.  MBBS Colleges in Bangladesh organised sports days and cultural festivals and inert school fests every now and then to make sure the students have their share of relaxation and are into fitness and other activities as much as they are in studies.
Why Is MBBS in Bangladesh valued by so many ?
Well I think the answer this I have mentioned umpteen times that the advantages of studying MBBS from a medical college of Bangladesh are many. Once again, lets look at the points below:
Language- All medical colleges of Bangladesh provide their course and lectures in English. English is the most preferred language and is easy to capture by most medical students of India and Bangladesh.
Location – Bangladesh is our neighbouring country and is very close to both India and Nepal and hence most students prefer going to Bangladesh for MBBS. Due to the close proximity to their native place, the time taken and the cost of transport from their country to Bangladesh becomes cost effective.
Low Cost tuition Fees in Bangladesh – Comparatively the Cost of studying MBBs In Bangladesh is lesser than In India or In India
High MCI Passing Ratio is another reason that most students opt for Medical colleges in Bangladesh.
Climate – The climate of India and the Climate of Bangladesh is quite similar doe to both being atropical country.
Food Habits – The food available in Bangladesh is similar to the food available in India and Nepal
There are other factors as well that helps in making medical colleges in Bangladesh a preferred choice for most:
Globally Recognised degree
Friendly environment giving them a feeling of staying in their own country
Bangladesh is a dry country and most parents find it relaxing to know this.
Course Curriculum for Medical Colleges in Bangladesh
The entire MBBS Course In Bangladesh is of 5 years duration and is divided into 4 phases. These 4 phases have one professional exam at the end of each session.
| | | | |
| --- | --- | --- | --- |
| Phase | Duration | Subjects | Professional Exam |
| Phase 1 | 1.5 Years | Anatomy, Physiology and Biochemistry | First Professional Exam |
| Phase 2 | 1years | Community Medicine and Forensic Medicine | Second Professional Exam |
| Phase 3 | 1years | Preventive and social medicine, Pharmacology & Therapeutics, Pathology, Microbiology | Third Professional Exam |
| Phase 4 | 1.5 Years | Medicine & Allied subjects, Surgery & Allied subjects, Obstetrics and Gynaecology | Final Professional Exam |
Course Curriculum for Medical Colleges in Bangladesh
There is no doubt that the quality of MBBS In Bangladesh is not at all compromised and has given many students the opportunity to be doctors and serve the nation. Here at The University Guru, we want to help you make the right choice, so if you have any queries, feel free to reach out to us at +91 7044720804 or just email us at universityguru.guide@gmail.com
If You have any questions, feel free to put in your details below and you will receive a call from the experts at The University Guru who will help you and guide you